Our Values
We are driven by our passion to introduce travelers from all over the world to the unique beauty and hidden pearls of East Iceland as well as the Icelandic culture. Our effort is to show our clients how these aspects are intertwined. We also want to show you how you can travel and enjoy nature while treating it with the respect, and care it deserves.
Tinna Adventure strives to do far more than adhere to the highest standards when operating our tours. Our guides must hold the correct professional certificates and strictly comply with all safety requirements. Each activity has a comprehensive operating policy and safety plan.
We hold ourselves accountable to a Code of Ethics. For example, we must provide a high standard of confidentiality, equality in the provision of our services, transparent pricing, and fairness in all of our dealings and advertising. We aim to uphold excellent standards of hospitality, service, and sustainability and comply with all laws, requirements, and regulations.
Tinna Adventure also holds high standards concerning sustainability, the environment, and social responsibility.
The preservation of the magnificent Icelandic nature for future generations to enjoy has always been very important to us. The protection of fragile ecosystems and wildlife habitats is as necessary as finding ways to reduce our individual and collective ecological footprints. 
Our Certifications
Being a sustainable tour operator is something that we, at Tinna Adventure, take very seriously. It is also essential for us to be able to reassure our customers concerning this. Our Certifications are an official recognition of our sustainability status. We are motivated to find additional ways to improve and keep pace with new sustainability developments.
Ferðamálastofa

Tinna Adventure is a registered tour operator with Ferðamálastofa, the Icelandic Tourist Board.
As a Licensed Tour Operator, we have to make sure of a few factors which are important for your confidence in us. Those are important for your enjoyment, the quality of your tour, and of course, your safety.
Everyone in the company has the correct level of qualification for the work they undertake. The qualifications of your guide will always meet or exceed the level required by Ferðamálastofa for the activity they undertake with you. The expertise and professionalism of your guide are necessary, both for your enjoyment and safety. We want you to get that special once-in-a-lifetime experience!
Operating guidelines with safety plans are in place for all of our tours. The operating standards of licensed tour operators are defined by the Tourism Act of Iceland.
Clean and Safe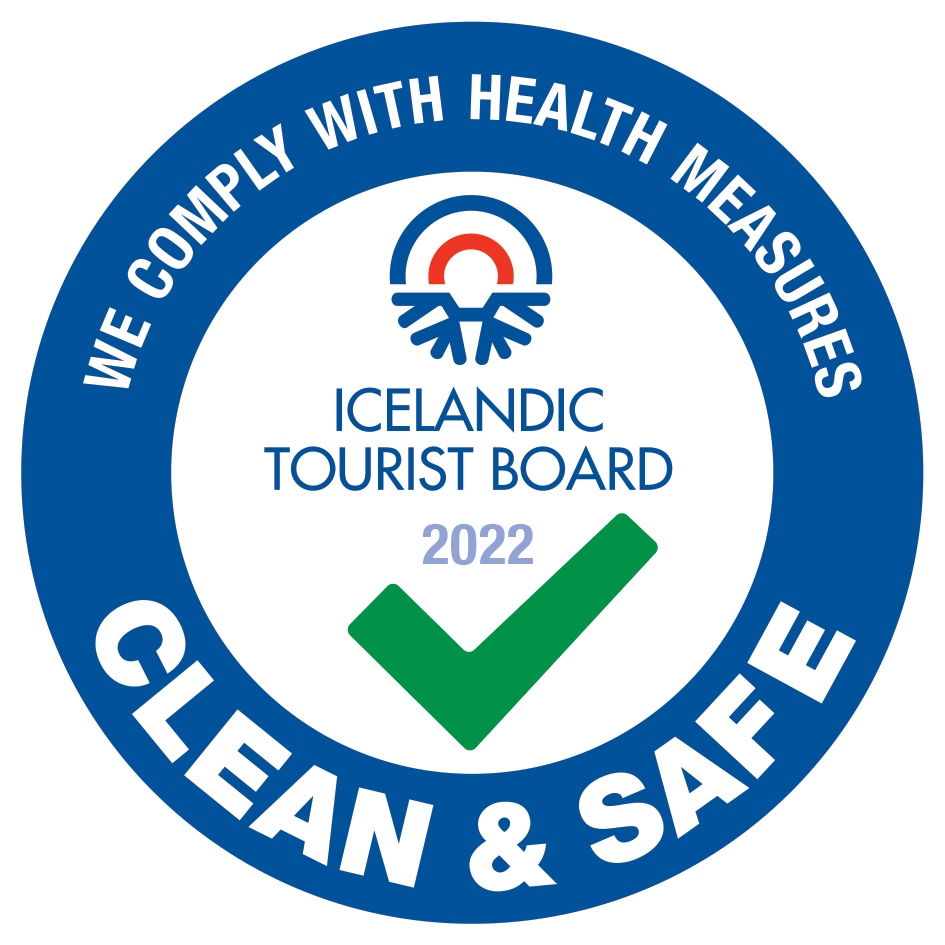 We also participate in the Clean and Safe project spearheaded by the Icelandic Tourist Board to certify companies that take responsible measures in order to keep travelers and locals as safe as possible during the COVID-19 pandemic. The project has been approved by the Health inspection authorities in Iceland and  World Travel and Tourism Council (WTTC).
SaveSave
SaveSave
SaveSave
SaveSave
SaveSave
SaveSave
SaveSave
SaveSave
SaveSave